So I have to admit I am a Twilight fan (a twimum, lol), I read all the books before the movie's came out and loved them. I was rewatching the first movie the other day and the coat Edward wears caught my eye - apparently it was custom made for the movie, but its a nice grey peacoat with a few details like the tabs and single welt pockets.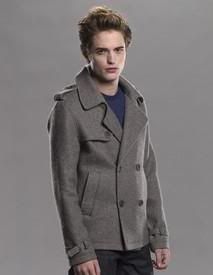 source
I know from experience that double breasted coats and me don't mix well, so I thought I'd do a single breasted coat from Simplicity 2311. I've used it before and was pretty happy with the shape, but found it too tight across the bust (I think I only did a 1" FBA) and the back. So this one I made a Sz 16 with a 3" FBA and also added a box pleat to the centre back and used the half belt to pull it all in. I made the armholes a lot higher too to give more arm movement, I hate a jacket I can't drive in.


The fabric is a charcoal melton 100% wool I managed to score on clearance at Spotlight for $5 a meter - I snagged all 5m that was there (and drove my husband nuts by making him stroke it and saying it was $5 a meter over and over again!!) so I still have enough for another coat/cape at a later stage.
I pretty much followed
Sherry's
RTW jacket instructions for the coat, I fused the front, side front and facing with armoweft interfacing - first time I've used it and it seems really nice.
First time making single welt pockets as well - I used the instructions out of
Tailoring
book, but made them a lot wider and deeper. So much easier than double welt pockets! Because the flap is slip stitched over the pocket opening it hides any wonky sewing compared to double welt which shows everything!
I have done bound buttonholes before but not very successfully - last time I did the
window pane method
but they felt kind of flimsy to me, so this time I did proper
bound buttonholes
. The biggest thing I found helped this time was not backstitching , I left the threads long and tied them off which meant it was very easy to make sure the lines matched perfectly!
I'm really happy with them, they aren't perfect at all but it gives me confidence to do them again.
I added a back stay - I haven't done one before but I figured it would help keep the back pleat from stretching open on the upper back.
I don't usually bother with progress posts, but I reckon it might be another week before I'm finished so figured it was better to post something up! Sorry for the dodgy photos, its just on dusk now and theres not quite enough light.